Christmas Eve
The Best Albums of 2013
10. "Hokey Fright" – The Uncluded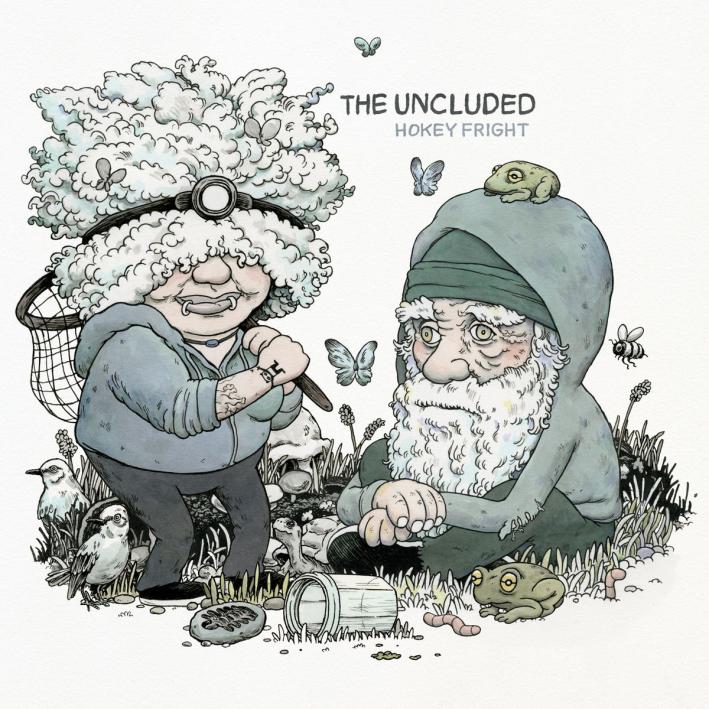 Released: May 7, 2013
Label: Rhymesayers Entertainment
Earlier this year, I learned that rapper Aesop Rock and folk singer Kimya Dawson were collaborating on an album. I pictured something quirky, intriguing, super fun, and  definitely verbose and "Hokey Fright" was all of those things. The album had a great display of both Aesop Rock and Kimya Dawson's musical abilities, beautiful imagery (even when what is depicted is not so beautiful), and and good messages. But, "Hokey Fright" can at times be an incoherent mess with broken flow and abstract sounds. However, songs like "TV on 10″ and "Delicate Cycle" make the album a worth-while listen.
RATING: 7/10
9. "Vessel" – Twenty One Pilots
Released: January 8, 2013
Label: Fueled by Ramen
Is it indie? Is it hip hop? Is it alternative rock? Is it folk? Is it pop punk? This duo rocketed into fame out of nowhere earlier this year and have managed to get on tour with Fall Out Boy and Panic! at the Disco. With an album like this, how could they not? For a freshman album, "Vessel" is full of a surprising amount of different sounds and experiments that do not fail. "Car Radio" is a definite highlight that mixes pop punk, post-hardcore, and alternative hip hop. Who cares what genre this album is, I call it poetry. I just cannot wait to see what Twenty One Pilots will do next.
7/10
8. "Doris" – Earl Sweatshirt
Released: August 20, 2013
Label: Columbia Records
Odd Future's Earl Sweatshirt released his debut album this year and I was not that excited about it. I heard "Chum" back in April and the beat sounded lazy and Earl's flow was not that great. But when I gave the album a listen in March, my whole opinion changed about Earl Sweatshirt completely. The album is full of weird experimental sounds like what we heard  on "Wolf" except that this album is very dark. The beats are average and I felt that Earl had too many guest vocalists for a debut; I felt like Earl may have been relying on them too much. But, Earl's verses were very mellow and calming. "Hive" portrays the best of every element from Earl and his guest contributions.
RATING: 7/10
7. "Save Rock and Roll" – Fall Out Boy
Released: April 12, 2013
Label: Island Records
Fall Out Boy is back! But, when I heard the lead single "My Songs Know What You Did in the Dark (Light 'Em Up)", I was not nearly that excited. It sounds like a B-Side of lead singer Patrick Stump's side project "Soul Punk". Except, that I enjoyed "Soul Punk". Fortunately, the rest of "Save Rock and Roll" is not like its leading single. The album mixes infectious pop rock with Fall Out Boy punk punk and add amazing guest contributions from Foxes, Big Sean, Courtney Love, and Elton John. They were NOT the saviors of rock and roll (like you may have heard), but Fall Out Boy does take a good crack at it. Check out the very epic opener "The Phoenix".
RATING: 7/10
6. "Random Access Memories" – Daft Punk
Released: May 17, 2013
Label: Columbia Records
Daft Punk takes you back in time to funky '90′s OutKast, to '80′s disco and pop, '70′s rock, and adds their electronic touch. "Random Access Memories" is a very fun and enjoyable electronic album with absolutely perfect production. All I can about this album is that it is their best album since 2001′s groundbreaking "Discovery". Play this album at a party and you might just find yourself getting lucky.
RATING: 8/10
Bronze Medal
5. "Modern Vampires of the City" – Vampire Weekend
Released: May 14, 2013
Label: XL
This weird and experimental indie pop record is Vampire Weekend's best work to date. The quartet experiment with weird sounds, baroque pop, indie rock, autotune, folk, and African traditional music. All of this brings Vampire Weekend on the brink of perfecting their sound especially with songs like "Dianne Young".
RATING 8/10
Bronze Medal
4. "My Name Is My Name" – Pusha T
Released: October 8, 2013
Label: Def Jam Recordings, GOOD Music
"Sweet Serenade" is what the title implies and jolted me like "gunshots in the dark". I realized that the beats on this album would be very minimalistic and low key (comparable to what we see on Yeezus) and that the wordplay would be top-notch. Pusha T's flow was solid and Chris Brown's feature was the sweet center. "Hold On" and "Nosetalgia" also demonstrate Pusha T at his best, but tracks like "Let Me Love You" show that when Pusha T falls short, he falls very short. The featured guests that I normally dislike such as Chris Brown, Rick Ross, 2 Chainz, and Future actually make good contributions… And Kendrick Lamar appears and gives a damn good performance. Pusha T is not a god, but Pusha T pushes the pen and the sets the bar for his labelmates. King Push does fall short flow-wise and musically, especially on tracks that lean away from the Kanye-inspired "production rules" rap.  Nevertheless, lyricism rules here and this album is superior to (Dare I? Yes.) Magna Carta… Holy Grail. As I mentioned, I am speechless. I am speechless at how superb this album really is.
RATING: 8/10
Bronze Medal
[Note: Taken from "10/14/2013 [Tuesday Quick Reviews + Some Old Content]"]
3. "The Greatest Generation" – The Wonder Years
Released: May 14, 2013
Label: Hopeless Records
This pop punk sextet has created the best pop punk album that I have heard in years. The story behind the album  and within it is brutally honest and can be very depressing. "The Greatest Generation" has everything a great pop punk album needs: good lyricism, fitting instrumentation, and fun poppy tunes.
RATING: 8/10
2. "Yeezus" – Kanye West
Released: June 18, 2013
Label: Roc-A-Fella Records, Def Jam Recordings
Kanye West has done it again. What surprised me was not that ha made another great record, but that he made am industrial rap record. This album is more modest than Kanye was on "My Beautiful Dark Twisted Fantasy" and it is really just a spectacle for your ears. "Bound 2″, "Blood on the Leaves", and "Black Skinhead" are Kanye's best tracks on here, if not some of the best tracks that he has ever created. Excellent beats, flow, production and beauty make up for where Kanye's singing and the lyrics are weak. Oh, and how can we forget "I Am a God"! "I am a god / So hurry up with my damn massage / In a French-ass restaurant / Hurry up with my damn croissants!" It is ridiculous and hilarious. And with that, this album gets a light 9.
RATING 9/10
Silver Medal
[Jerod]
Next: The Best Album of 2013